Ronald McDonald House Dropbox Locations
Help our House by Cleaning Out Your Closets!
DONATE YOUR GENTLY-USED CLOTHES AND SHOES
Your donation of new or gently-used, any-size clothing and shoes go a long way at the Ronald McDonald House Charities.  Drop your donations in any of the drop boxes located at local business partners throughout San Antonio and the surrounding areas and our Houses will receive a portion of the proceeds.  You can also drop off your donations directly to our House at 4803 Sid Katz, San Antonio, Texas 78229
 *Please do not leave items outside of the donation boxes*
 PLACE A DROP BOX AT YOUR BUSINESS
Placing a drop box at your business visibly reflects your support of RMHC.
The Clothing Donation Boxes are picked up three times a week, well-maintained, carry their own insurance, and pays a portion to RMHC for items donated.
If you are interested in supporting our House by putting a donation box at your business or organization, please contact Kristy Walston at 210-614-2554 or kristy.walston@rmhcsanantonio.org.
Donation Box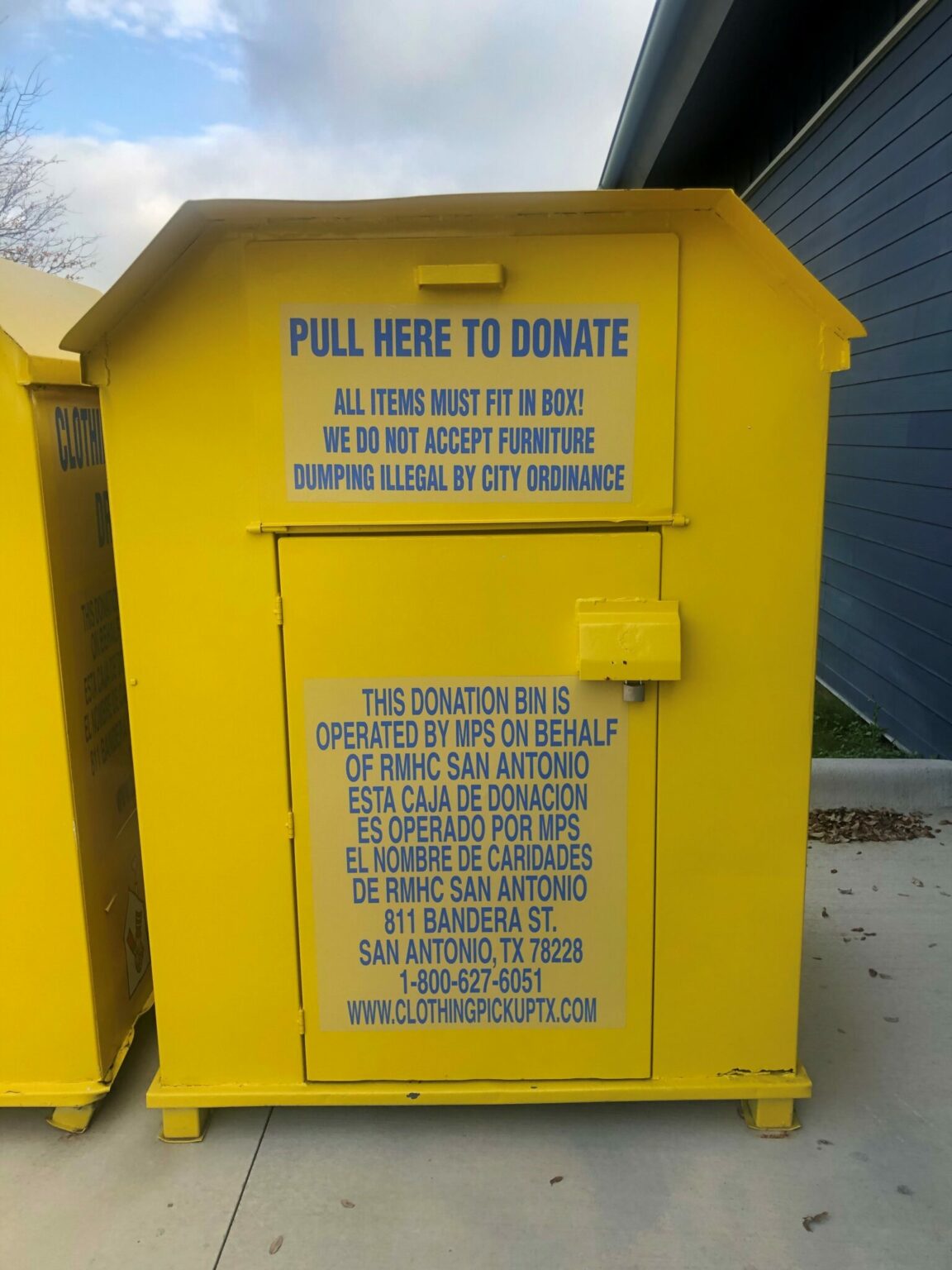 | | | | | |
| --- | --- | --- | --- | --- |
| Location | Street | City | State | Zip |
| McDonald's | 9600 Interstate Highway 10 | San Antonio | TX | 78230 |
| McDonald's | 8631 Broadway | San Antonio | TX | 78217 |
| McDonald's | 6370 Babcock Rd | San Antonio | TX | 78240 |
| McDonald's | 11710 N Interstate 35 | San Antonio | TX | 78233 |
| Ronald McDonald House | 4803 Sid Katz Dr | San Antonio | TX | 78229 |
| Mabely's Bakery | 500 W Hwy 117 | Dilley | TX | 78017 |
| Kountry Bakery | 508 St Matthew | Gonzales | TX | 78629 |
| St. Mark's Catholic Church | 1602 Thousand Oaks | San Antonio | TX | 78232 |
| Rodeo Mexican Restaurant | 107 S St Joseph St | Gonzales | TX | 78629 |
| Shell | 1119 US Hwy 77 | Hallettsville | TX | 77964 |
| Town & Country Cleaners | 121 Nelson St | Yoakum | TX | 77995 |
| Lubianski's | 13636 Farm to Market 1346 | St Hedwig | TX | 78152 |
| Pic N Pac-Valero | 670 FM 78 | Marion | TX | 78124 |
| Hondo Garden Club (THRIFT) | 1903 19th Street | Hondo | TX | 78861 |
| | | | | |
| --- | --- | --- | --- | --- |
| Location | Street | City | State | Zip |
| El Charro Mexican Restaurant | 1200 Farm to Market 78 | Schertz | TX | 78154 |
| Chevron | 42 U S Hwy 87 | Comfort | TX | 78013 |
| McDonald's | 600 Sidney Baker St | Kerrville | TX | 78028 |
| McDonald's | 530 10th St | Floresville | TX | 78114 |
| Catholic Church | 205 James St | Boerne | TX | 78006 |
| Regal Cinemas | 11075 I 10 | San Antonio | TX | 78230 |
| Ronald McDonald House | 4847 Charles Katz Dr | San Antonio | TX | 78229 |
| Exxon | County Road 777 & FM 173 | Devine | TX | 78016 |
| Aaron's Furniture Store | 1413 Sidney Baker St | Kerrville | TX | 78028 |
| Muniz First Stop Store | 1502 North Oak | Pearsall | TX | 78061 |
| McDonald's | 299 Hwy 90 E | Hondo | TX | 78861 |
| Hondo Food Mart | 1602 14th St | Hondo | TX | 78861 |
| Laundromat | 315 N Commerce St | Dilley | TX | 78017 |
| Dollar General | 2210 N 1st St | Carrizo Springs | TX | 78834 |
| McDonald's | 7663 Guilbeau Rd | San Antonio | TX | 78250 |
| McDonald's | 6967 San Pedro Ave | San Antonio | TX | 78216 |