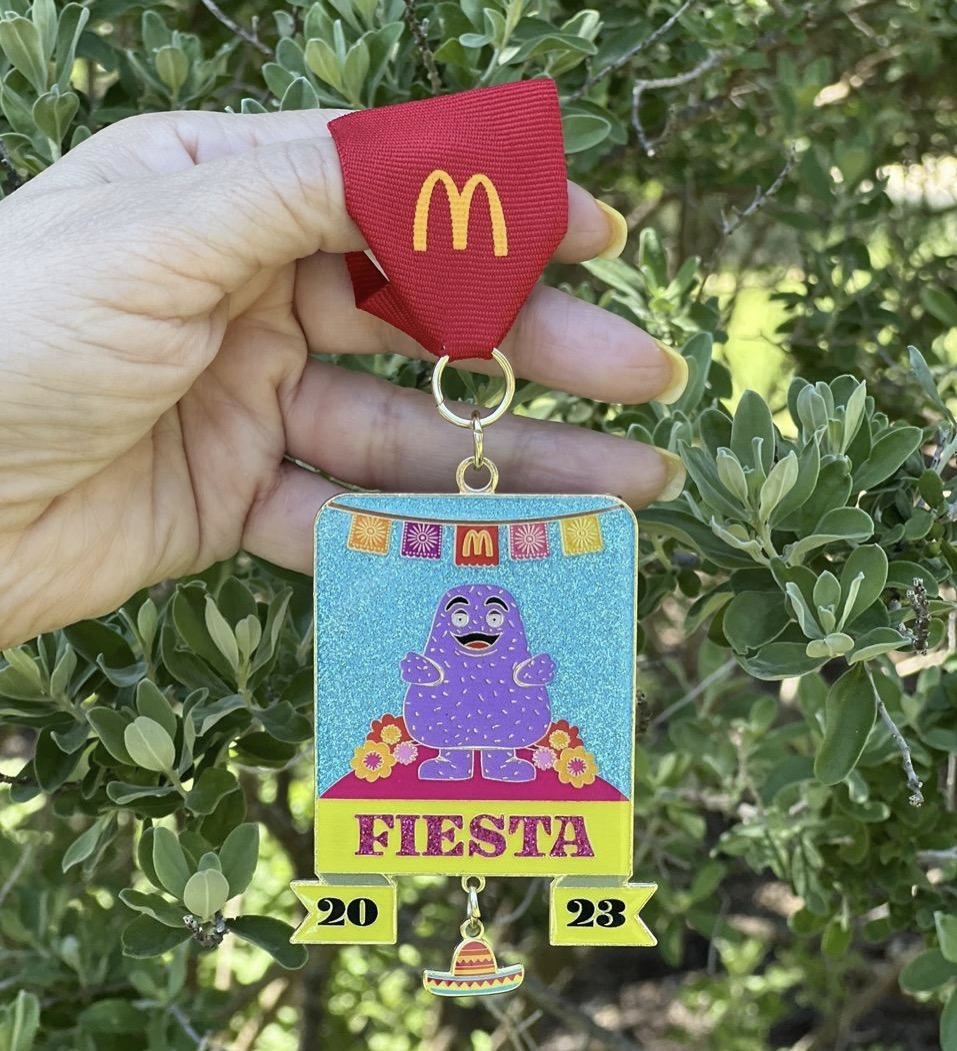 27 Apr

2023 Fiesta Medals

FIESTA MEDALS ARE BACK AT A McDONALD'S RESTAURANTS  IN SAN ANTONIO BEGINNING APRIL 14

All proceeds go to Ronald McDonald House Charities of San Antonio

SAN ANTONIO (Friday, April 14) – Today, McDonald's will begin selling its annual Fiesta Medals at locations across San Antonio. Grimace, one of McDonald's most beloved characters, will be featured on the 2023 medal. Medals are available for purchase at participating McDonald's restaurants for $8.50, with all proceeds benefiting Ronald McDonald House Charities (RMHC) of San Antonio.

For the past seven years, local McDonald's restaurants have designed and sold medals as part of the city's annual Fiesta Celebration. In that time, more than $190,000 has been raised for RMHC of San Antonio. RMHC of San Antonio's mission is to keep families close while an ill or injured child receives medical care.

"I was born and raised in San Antonio and my family looks forward to Fiesta every year," said Maria Acosta, local McDonald's Owner/Operator. "We enjoy bringing fun designs to our Fiesta medals each year and we're really proud to give back to our community and support RMHC of San Antonio through this fundraiser. Happy Fiesta!"

In addition to Fiesta Medals, customers can donate to RMHC anytime they visit McDonald's by choosing to round up their check to the nearest whole dollar. Round-Up for RMHC is available at kiosks inside the restaurant or by letting the cashier know in the Drive Thru or the front register that you'd like to round up your purchase.

ABOUT McDONALD'S OF SOUTH AND CENTRAL TEXAS 
McDonald's of South and Central Texas is a co-operative of local business owners who own and operate more than 320 McDonald's restaurants throughout South and Central Texas. McDonald's of South and Central Texas restaurants employ thousands of people in Austin, Bryan, College Station, Corpus Christi, Killeen, Laredo, San Antonio, Temple, Victoria, and Waco, along with the Lower Rio Grande Valley and the surrounding communities. 

ABOUT RMHC OF SAN ANTONIO

Ronald McDonald House Charities of San Antonio (RMHC of San Antonio) provides a safe and caring home away from home for the families of children receiving essential medical services in San Antonio, Texas. The belief is that families are stronger when they are together, and this is never more important than when a child is sick or injured. RMHC of San Antonio understands that a family's main focus is on the health of their child, nothing else matters. Providing an affordable place to stay or a place to receive a next meal is always a prime concern. To learn more about RMHC of San Antonio, visit rmhcsanantonio.org and follow them on Facebook @rmhcsanantonio and Instagram @rmhcofsa.