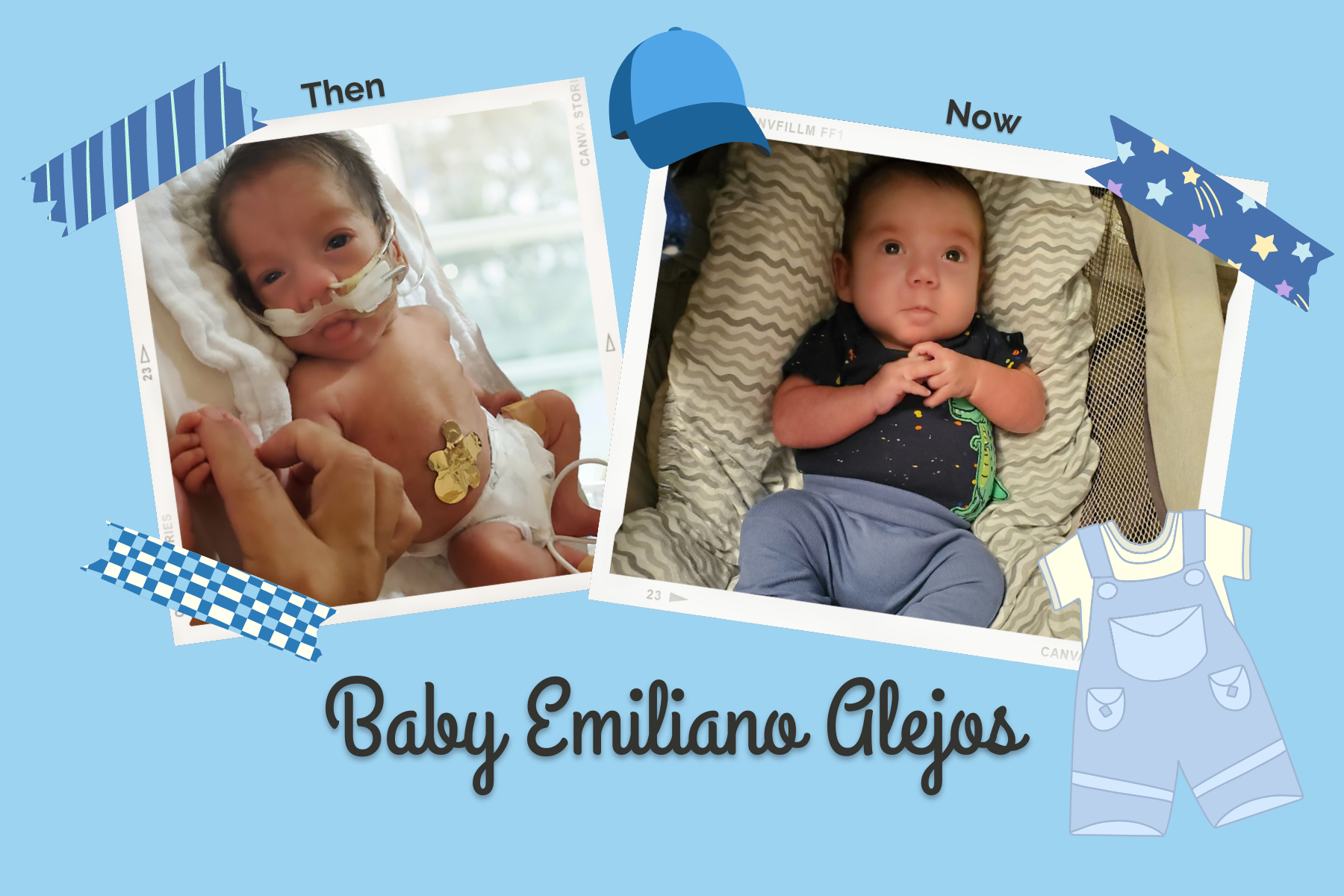 19 Dec

A Preemie Miracle – Baby Emiliano's Story

June 20, 2022 started like any other day. Monica was at the doctor's office for what she thought was a urinary tract infection. But at only 26 weeks pregnant, she was shocked to learn she was 4 centimeters dilated.

Due to the dire situation, Monica was airlifted to The Children's Hospital of San Antonio (CHOSA) for an emergency surgery. Monica was panicked. Would her baby be okay?

A short while after, Emiliano Alejos was born weighing just 2.9 pounds.

After enduring an emergency surgery, the emotional rollercoaster of having a premature baby in the neonatal intensive care unit (NICU), and being in an unfamiliar place, Monica was overwhelmed.

Monica and her husband, Gilbert, knew they had to be with their fragile newborn, but how would they make it work? How long would Emiliano be in the hospital? How would they afford to stay at a hotel the entire time? Looking at the rise in gas prices and time needed to drive 1-hour back and forth from Seguine to San Antonio, commuting did not seem like a feasible option either.
How Ronald McDonald House Provides a Home Away from Home
Thankfully, Monica and Gilbert's social worker referred them to Ronald McDonald House  located inside CHOSA on the fourth floor. Now, they would be by Emiliano's side every step of the way, whenever he needed them, for as long he was in the hospital.
Monica shares, "They were able to get my husband in before I was released. It was definitely a Godsend knowing that we would be able to stay at the hospital with our baby. The room was very comfortable. The living area with tv and children's area was nice when we had family come to visit. The laundry room with the donated supplies to wash was always so much appreciated.
We will forever be thankful to the Ronald McDonald house, the staff at the RMHSA, volunteers, other families, and hospital staff. Without them, we would've not been able to go through the NICU journey alone. I always mention to everyone how great it was and how the Ronald McDonald House is such an amazing nonprofit organization that helps so many families. We came home after 82 days in the NICU. My son is thriving and doing great."
How You Can Help Ronald McDonald Families like the Alejos'
 At Ronald McDonald House, we know families are stronger when they are together. Having a sick child is hard enough without families worrying about housing, food, and transportation.
Families like the Alejos' staying in San Antonio for 80+ days will spend more than $10,000 in hotel, food, and transportation expenses. But with your support, they don't have to.
Donate today and provide families with a home away from home when they need it most.
Give Now