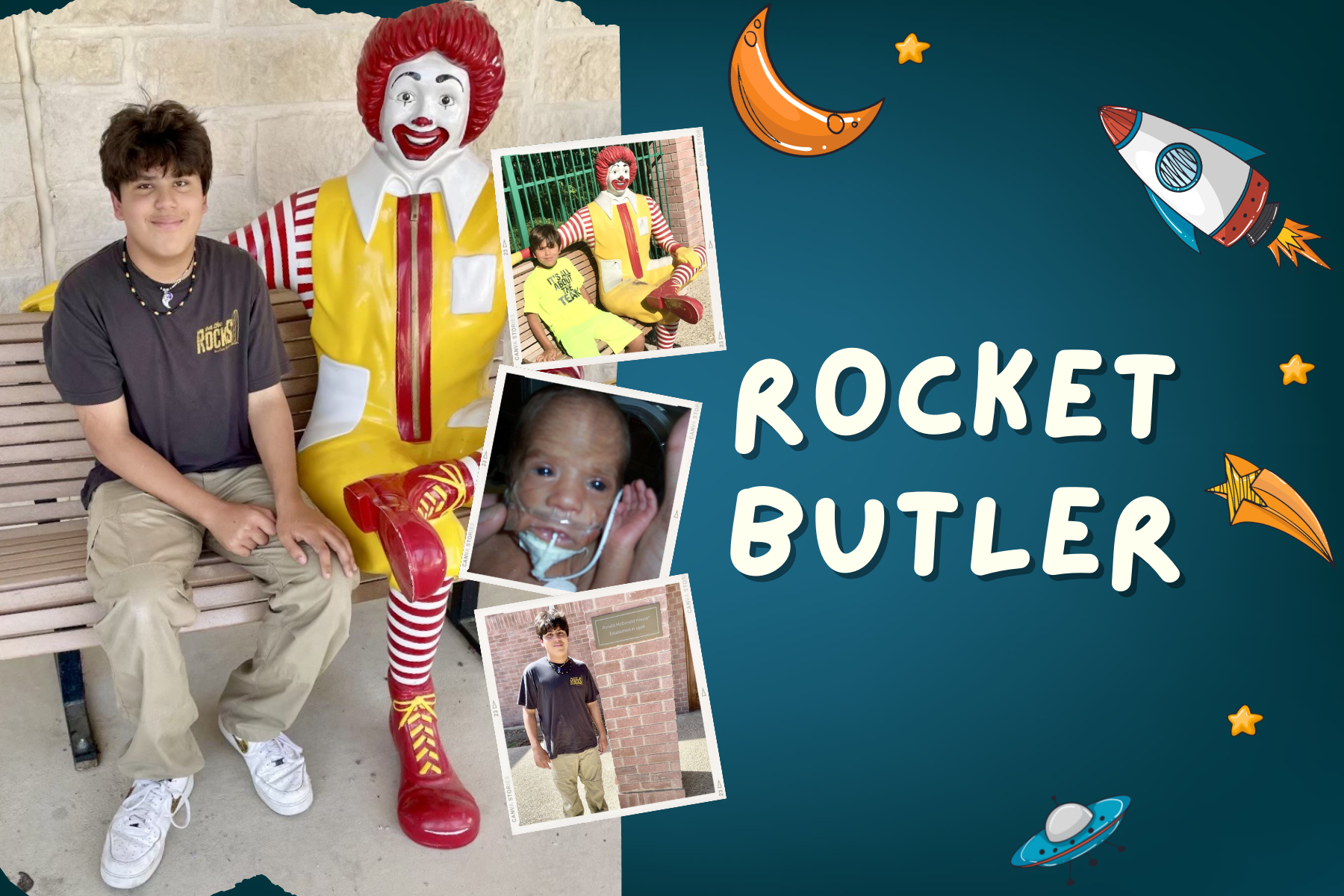 19 Dec

A Preemie Parent's Miracle on Medical Drive

It was a normal Monday afternoon when soon-to-be mother Lizzy Butler, went in for her usual routine visit in hometown Laredo, Texas. But nothing about her visit was normal when Lizzy learned she had pre-eclampsia and gestational diabetes. Due to the severity, Lizzy was immediately transferred to a local hospital by ambulance to help bring her blood pressure down. Unfortunately, the risk for stroke was too high and the hospital in her hometown did not have the resources to deliver a baby that prematurely. Lizzy was then transported to University Hospital in San Antonio, Texas to deliver her son at only 24 weeks.

After an emergency cesarean section, Rocket James Butler was born on April 17, 2008, weighing just over a pound. Lizzy endured exhausting battles with her son from cardiac arrests, blood clots in his brain, multiple blood transfusions and necrotizing enterocolitis, a disease of the intestinal tract in which the tissue lining the intestine becomes inflamed, dies, and can slough off.  From the start, Lizzy was told by doctors that Rocket could face mental and physical complications his entire life, and the chance of his survival was very slim. Rocket could be confined to a wheelchair, might become blind and have chronic pulmonary disease.
Ronald McDonald House there for Families Through Every Battle, Every Miracle
As days turned to months, Lizzy was not prepared for the financial cost that quickly accumulated being away from home. Due to the circumstances, Lizzy was no longer able to work. After using all of her paid time off, the financial burden quickly became overwhelming.
Thankfully, Lizzy was able to find a home away from home at Ronald McDonald House Charities of San Antonio,
"The fact that I had a place to stay at RMHC San Antonio that was practically walking distance to the hospital was huge! Having to pay for a hotel, food and gas would've put us in a very bad financial bind," says Lizzy.
Being in an unfamiliar place 162 miles away from her entire family and loved ones, Lizzy felt hopeless. Lizzy slipped into depression wondering if her tiny son would ever overcome the countless number of premature complications he was facing. But what kept Lizzy strong was through the power of prayer and support from other families she met while staying at the Ronald McDonald House of San Antonio.
"I built some relationships with the families at RMHC. There was a sense of family away from family and a home away from home. You are like a little family with everyone at RMHC because they're experiencing similar situations as you. Having someone to talk to about it that would understand because they are in the same situation."
After what felt like never-ending bad news, Lizzy began to experience unexplained miracles. "We don't understand how other than it is just a miracle. Many times, the doctor would call me into a big conference room to prepare for a big surgery for the blood clot in his brain, an underdeveloped valve, the hole in his heart. And here we are, right before each surgery, they would do another scan and miraculously it's gone! Rocket was intubated for a long time. Once he got off, he was still receiving oxygen. But this made his retina start detaching because he was receiving so much oxygen since his lungs were not fully developed. But suddenly, the retina on both eyes repaired themselves. He wore glasses all through elementary school. But now he has 20/20 vision."
Although Lizzy says those four months were the longest months of her life, she is grateful. "[Rocket] truly is God's miracle and a blessing indeed. Thank you, Ronald McDonald House, for everything you did for us and my family – we couldn't have made it without your support!"
Help Ronald McDonald House Provide for Families
At RMHC, families rely on each other for a listening ear, supportive advice, and life-long friendship. This family-like environment promotes healing for each family as they all rely on each other during uncertain days while their child relies on their daily presence to battle their illness or injury.
Lizzy shares, "You build these strong bonds and relationships with these families. To this date, we still talk about our experiences and ask about our kids. But the support that everyone gave each other at RMHC was very helpful. I'll never forget the kindness from different organizations that would come to RMHC and cook a homecooked meal and bring tiny hand-made clothing for my son."
This holiday season, Be the Light for RMHC families and donate today. With your generous gift, you can help keep families like Lizzy and Rocket stay close to the resources they need whenever they need it, for as long as they need it.
Give Now