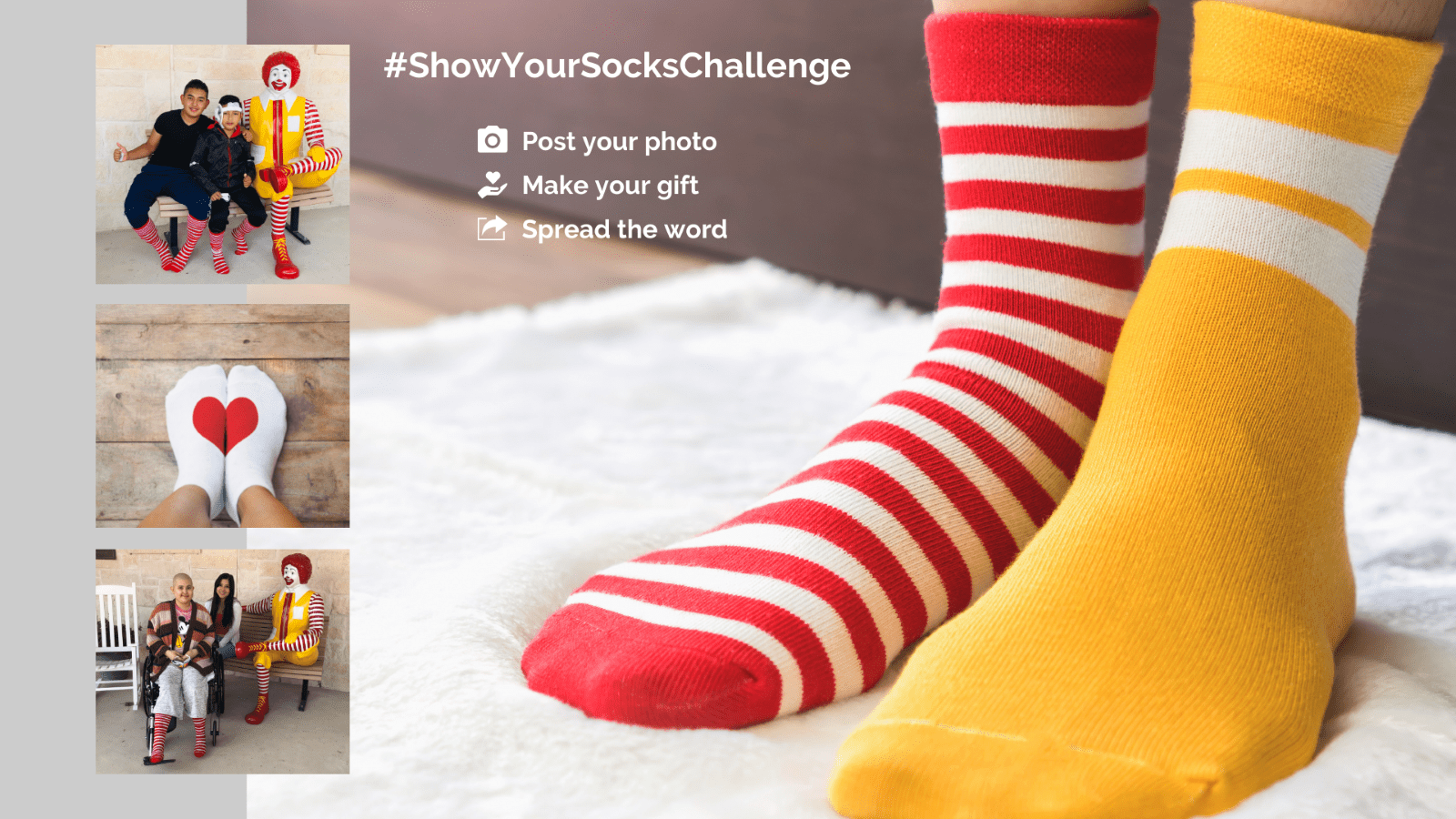 13 Sep

Raising Awareness for Childhood Cancer

When your child is receiving treatment for cancer, the comforts of home can help bring a level of normalcy to children being treated in the hospital or far away from their hometowns. A favorite book, a warm sweater and a cozy pair of socks can go a long way to boost spirits and even impact recovery time.

September is Childhood Cancer Awareness Month, so we've teamed up with Stagg Restaurants, LLC to host a Show Your Socks Challenge to support families with children receiving cancer treatment hundreds or even thousands of miles from their homes. 

Beginning September 20, for every picture posted to social media with the hashtag  #ShowYourSocksChallenge or donation made to Ronald McDonald House Charities (RMHC) of San Antonio, Stagg Restaurants, LLC will donate $100 up $5,000. 

🧦Step 1 – Grab your favorite pair of socks

📷 Step 2 – Snap a picture of your cozy toes 

📤 Step 3 – Share your photo on social media with the hashtag #ShowYourSocksChallenge

💙 Step 4 – Make a gift to Ronald McDonald House Charities of San Antonio to support children receiving medical treatment far away from their homes
Why Your Support of Children with Cancer Is Needed
Each year, more than 15,000 children are diagnosed with cancer, making it the leading cause of death for children between the ages of 4 and 14. That means approximately 1 in 285 children in the United States will be diagnosed with cancer. 
Despite drastic improvements in cancer treatments over the past 30 years, the fight for children with pediatric cancer and their families is far from easy.  
When the cancer treatment needed is not available in the family's hometown, children must travel hours or even states away to receive treatment or see specialists.  
There are many challenges a family with a child in the hospital or receiving cancer treatment far from home can face:
Finding lodging near the hospital

Providing meals for themselves, their child, and other siblings

Prioritizing self-care for the caretaker of the patient and other family members

Managing the additional costs for treatment, housing, food, and transportation
When children are receiving cancer treatment hundreds or even thousands of miles away from home, families become separated from each other and their support system. Parents end up splitting their time with one parent remaining at home with siblings or work, while the other travels to and from the hospital for their child's treatment. However, research shows that access to family-centered care positively impacts a child's recovery, resulting in shortened hospital stays with more favorable medical outcomes. 
How You Can Help Families with Children Receiving Cancer Treatment
RMHC of San Antonio provides families a safe, caring home-away-from-home where families in similar circumstances can interact and lend and receive mutual support. We believe, when a parent is focused on the health of their child, nothing else should matter, not where they can afford to stay, where they will get their next meal, or where they will lay their head at night.
>>>
You can join the fight and support children receiving medical treatment away from home by joining the Show Your Socks Challenge and making a gift to RMHC of San Antonio. Grab your socks, snap your photo, and support kids today! 
Give Now