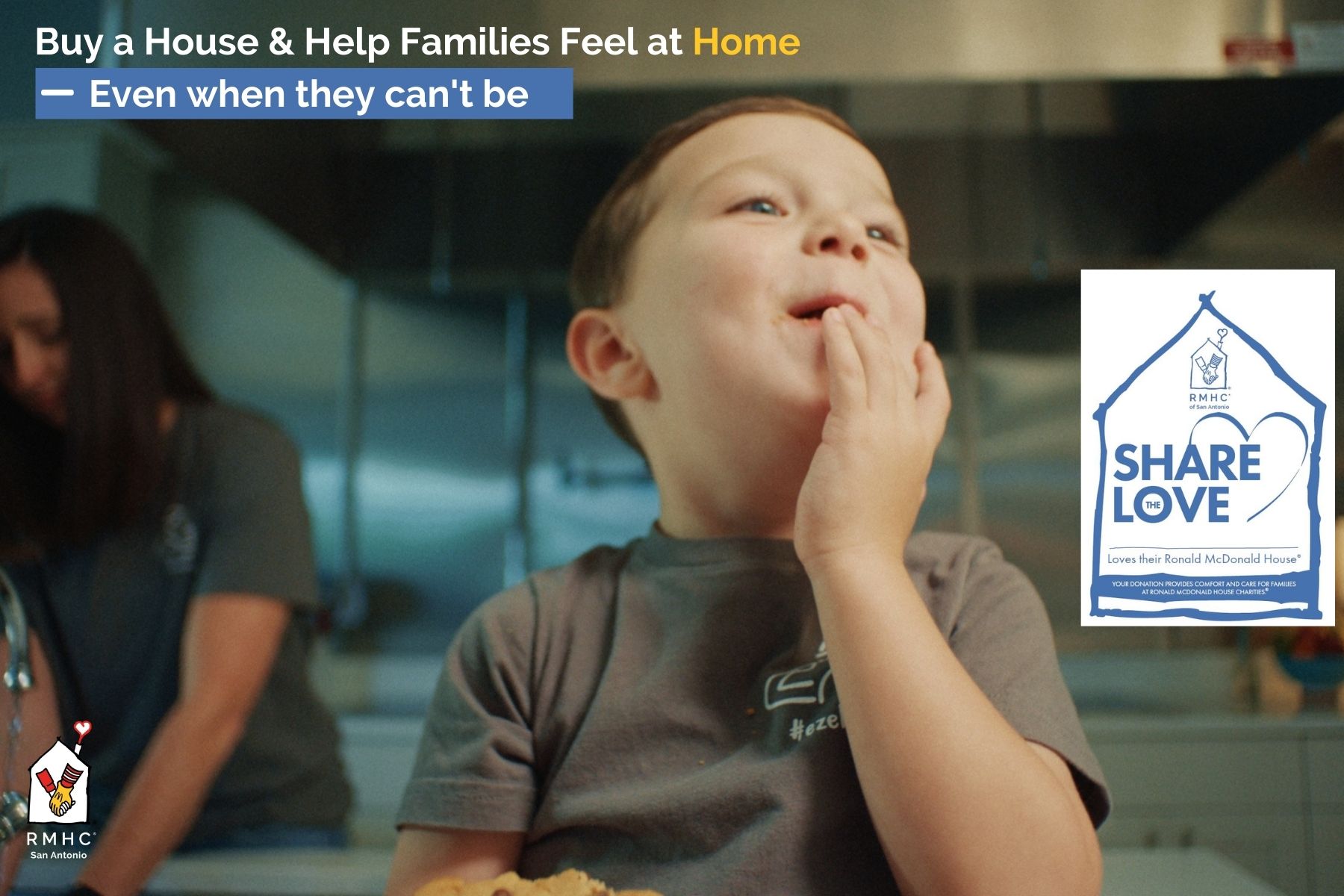 29 Dec

This Valentine's Day Share the Love with RMHC® Families

Starting February 1st-28th when you buy an RMHC paper house for $1, you are giving families with sick children a home-away-from-home. Over 1,000 children and their families stay at Ronald McDonald House Charities® of San Antonio each year. Thanks to your support, no family is ever turned away because they are unable to pay.

Families travel from all over Texas, 35 states and 6 countries to receive medical care in San Antonio. RMHC® of San Antonio provides rooms accommodating up to 4 family members, full-service kitchen, playrooms, free on-site laundry, meals, and transportation.

The longest a family has ever stayed with us is 2.5 years; so you can imagine our House truly becomes home.
How to Share the Love this Valentine's Day:
Ask your employer, church, or school if they want to participate in the RMHC® Share the Love Challenge
RMHC® will provide you with the paper houses free of charge.
Starting February 1st– 28th, sell the houses for $1, $3, or $5—every dollar given ensures children never go through treatment alone
Display the Houses around your office to show your support or let participants take them home as a keepsake.
Share the Love is a fun way to get your students, staff, or congregation involved to buy, sell, and decorate paper houses supporting our families. For 10 years, local churches and schools have participated in similar Share Your Heart Challenges raising over $200,000 for RMHC® of San Antonio.
San Antonio area McDonald's restaurants will also be participating in Share the Love. When you stop by to grab a tasty snack, you can donate $1, $3, or $5 for a House to be displayed in their restaurant. All proceeds will be donated to our House.
To get started with the Share the Love Challenge, please email Jennifer.Othman@rmhcsanantonio.org or call her directly at 210-580-9000.
Thank you for Sharing the Love with RMHC® families when they need it most.