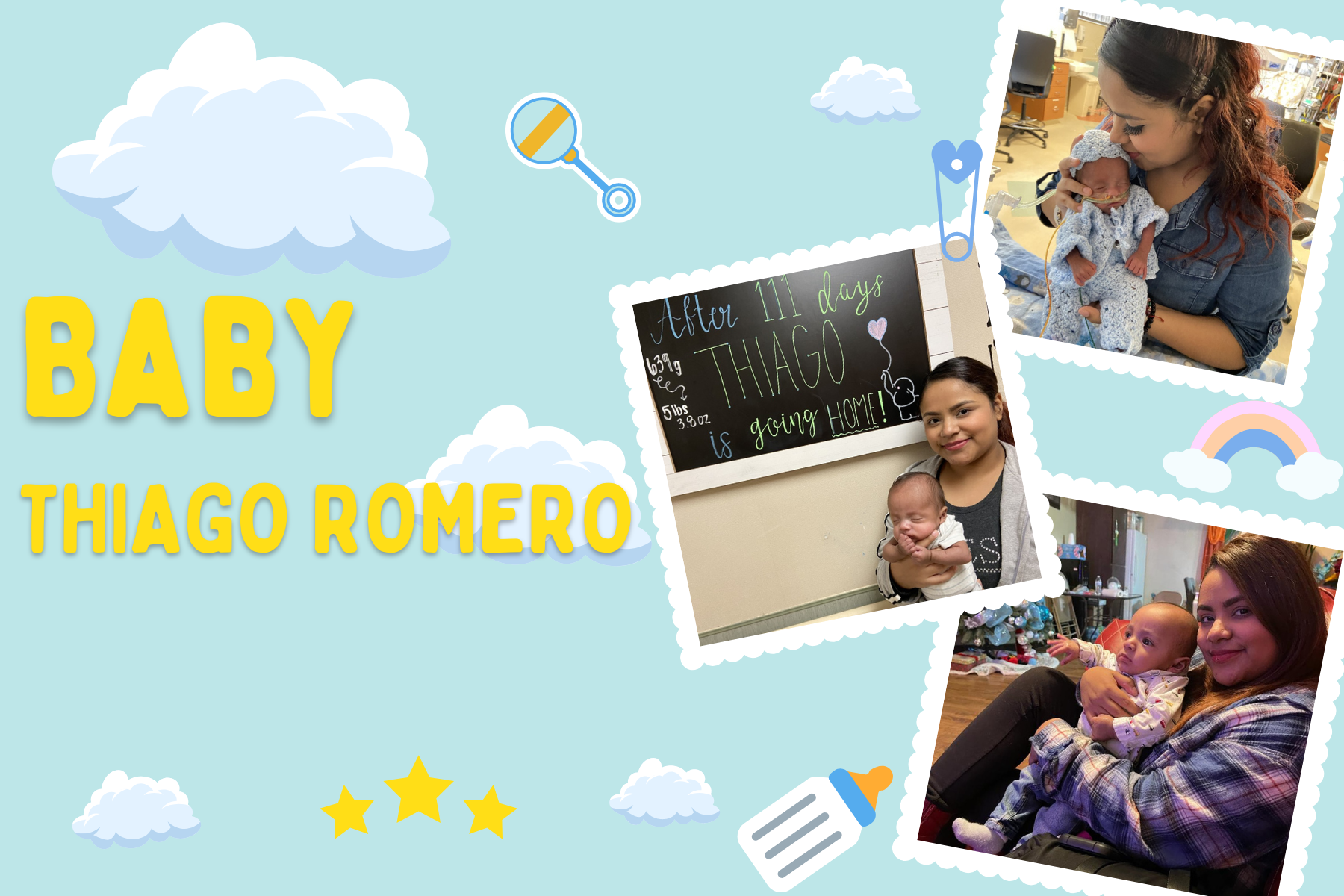 15 Dec

An Unexpected Tiny Gift from Above

On March 25, 2022, Fatima Sanchez learned she was expecting her first child! Immediately, she knew she wanted to give her baby a name that would reflect her faith and be 100% unique. But what she didn't know was that, at only 22 weeks pregnant, her child would be arriving far sooner than expected.

A few days later, Fatima began experiencing abdominal pain that intensified as the day progressed. Her family rushed her to the Rio Grande Regional Hospital in McAllen, Texas only to hear the doctor tell her, "Your baby is coming right now. We need to send you to labor and delivery."

At just 23 weeks and 6 days, Thiago Dael Romero came into this world on April 3, 2022, weighing only 1 pound and 6.2 ounces. Baby Thiago was born micro prematurely with little to no chance of survival. After a few days, Fatima was discharged, and every day felt like a lifetime wondering when her baby would be able to come home with her. Then, just 7 days after her baby was born, her doctor called and told her that Thiago needed emergency ostomy surgery in San Antonio, Texas.

Immediately, Fatima and her son were airlifted to Methodist Hospital in San Antonio and arrived with only the clothes on their backs. Fatima assumed it would be a simple procedure, and she and her son would be able to go back home within a few days. But Thaigo's battle was just beginning. The doctors estimated he would be in the hospital for at least three more months.
RMHC San Antonio Provides more than just a Home to Families
Fatima was scared and completely alone in San Antonio. With little to no savings, no clothes, and no support in the area, Fatima did not know what to do next. Thankfully, a social worker referred her to Ronald McDonald House of San Antonio. Although Fatima was alone in San Antonio, she found comfort being at RMHC San Antonio.
"Although I'm physically alone here, I never felt mentally alone. Everyone is so nice here. Monica gave me baby clothes for Thiago. I took this extra time to be with my baby. I get to hold and spend quality time with Thiago."
With RMHC San Antonio being only minutes from Methodist Hospital,  Fatima is by Thiago's side at a moment's notice. Thanks to Ronald McDonald House, Fatima no longer has to worry about spending funds on a hotel, sleeping in a chair in a hospital room, or eating her next meal from a vending machine. RMHC San Antonio provides a home-away-from home for moms like Fatima so they can solely focus on the care of their child.
After four months of uphill battles and staying at RMHC San Antonio, Fatima and baby Thiago were finally able to go back to their home in Doma, TX.
"Thiago's doing a lot better now and is able to eat from a bottle. There are so many things that could've happened. But he's strong. He wants to live and that's why he's here. His name means  I'm so grateful for RMHC!"
How You Can Make a Difference for Families this Holiday Season
Be the Light for families this holiday season and provide families with a home away from home with they need it most. Your gift to Ronald McDonald House Charities of San Antonio will keep more families like Fatima and Thiago close to one another and close to resources they need. Make your gift today.
Give Now