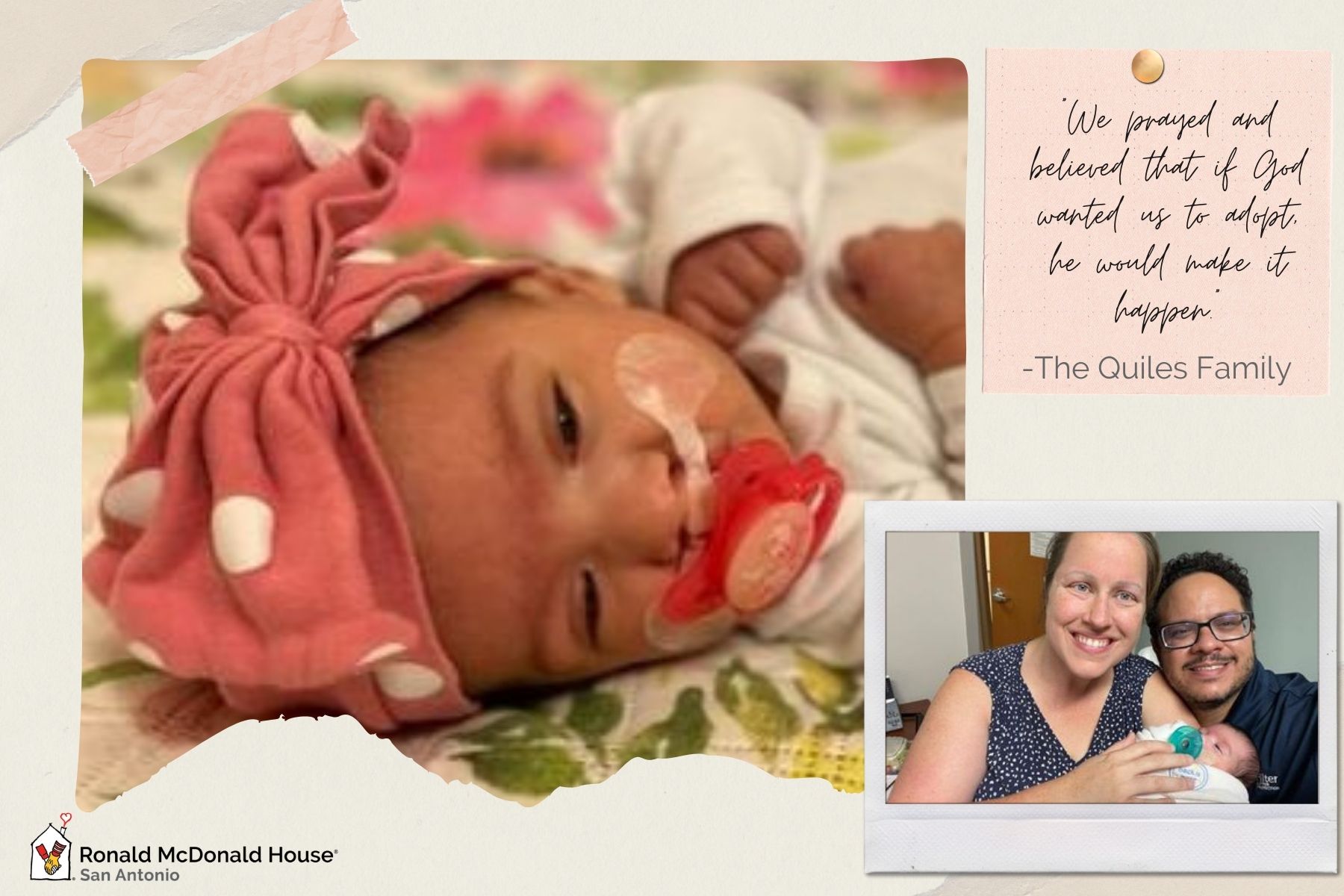 10 Jan

Finding Family in Unexpected Places

Hector and Lauren Quiles found family when they least expected it. After four years of trying to adopt, a year of fostering and a failed private adoption the Quiles were heartbroken. In 2020, after much thought and prayer, they gave themselves 12 months to adopt or they would discontinue the search forever.

Only a few months before their deadline, they were contacted by an adoption agency informing them of a baby born out of state with a cleft lip and palate. They immediately submitted their names for consideration, but were not hopeful, as they had been unsuccessful in the past.

A few days later, they received the call that changed their lives forever—the birth mother chose them. Daisy was born at 28 weeks weighing less than 2 pounds with some medical complications. Due to her cleft lip and palate, Daisy needed a stomach tube to provide necessary nutrients.

Before they knew it, the Quiles were flying to San Antonio, Texas to meet 3-month-old Daisy. When Hector and Lauren arrived, they were blown away by the care Daisy received from the NICU nursing staff. With Daisy's biological parents living out of town, the nurses truly became her family, buying her clothes and changing her diapers.

Lauren fondly remembers the nurses doting on how feisty Daisy was; despite weighing less than 2 pounds, she still put up a fight for every diaper change! That's when the Quiles knew, not only was their daughter beautiful but she was also a fighter.

After 100 days in the NICU, Daisy was weaned off oxygen and discharged from the hospital. While the Quiles were ecstatic for the progress, those first few days were a blur. As new parents, adjusting to a 6lb newborn with a feeding pump, they were shocked to learn they must remain in Texas until their adoption paperwork was finalized.  Luckily, the Quiles were able to remain at the Ronald McDonald House.

Lauren shares, "We were exhausted but so blessed and felt so supported by the medical team in Texas and by the Ronald McDonald House. They truly cared for us, and it was such a beautiful, safe place to stay."

One week after discharge, the Quiles were finally able to go home. The Quiles may have found family in Texas, but they are delighted to welcome Daisy to her forever home in Ohio.  Daisy had her first cleft surgery in late 2021 and they are excited for their future as a family.
How Ronald McDonald House Charities® of San Antonio Helps Families
The Quiles stayed at RMHC® of San Antonio for 17 days. During their stay, the Quiles received a safe place to stay, food, and access to transportation free of charge. Families like the Quiles, stay with us while their child receives medical treatment in San Antonio. Many families travel out-of-state to adopt and RMHC of San Antonio can provide living accommodations while their child receives in-patient or out-patient services.
Lauren shares, "We are so thankful to Ronald McDonald House of San Antonio. Without them our bills would have been considerably higher and much more difficult to manage. We would have had to compromise by staying at a place that was not as comfortable or safe. We felt so safe and cared for and had everything we needed at the Ronald McDonald House, and the staff were fantastic!"
The average cost for a family traveling out of town for medical services is $5,000 a month for just food and lodging. Thanks to the support of our community, families never have to pay to stay at our House. Every $10 donated provides transportation to the hospital, $25 feeds a family of four and $100 covers the entire cost for a family to stay one night.
Donate today and keeps families together when it matters most, because a child should never go through treatment alone.
Support RMHC Families Today