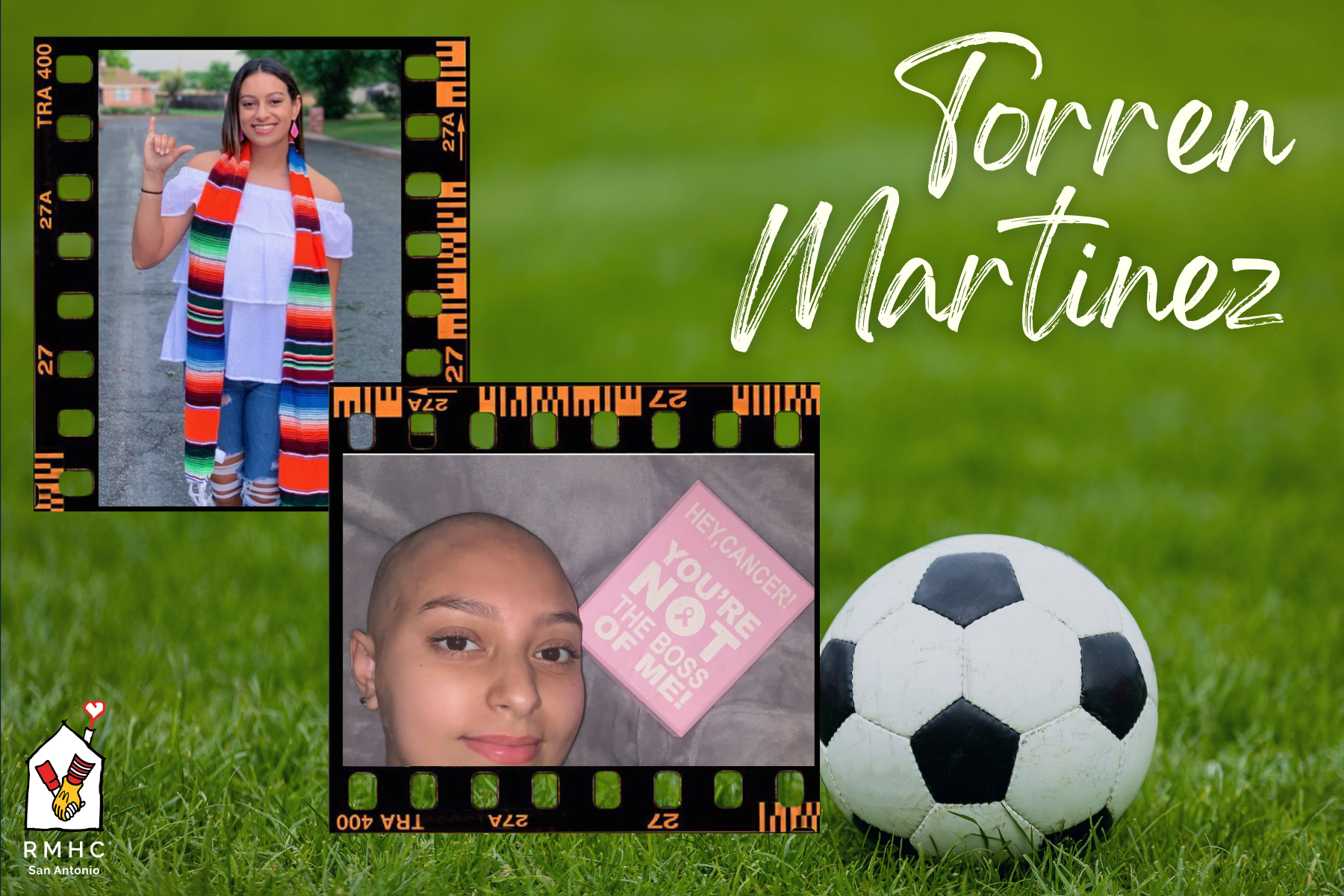 01 Jun

From College Classes to Cancer Treatment – How Torren Finds Inspiration in the Darkest Moments

20-year-old Torren Martinez is like any other ambitious young adult with dreams as big as the Texas sky. Born in San Angelo, TX, she grew up surrounded by loving family members, lots of friends, and playing soccer. If there was one place you could find Torren, it was anywhere outside, her mother boasts. "I was always outside, always with friends, with my coaches and hanging out with them. We had a close bond. I made a lot of friendships out of soccer," Torren shares. 

Fast forward to 2021, Torren's sophomore year in college, she and her family were overjoyed when she was accepted to the University of Texas at San Antonio to pursue a degree in Chemistry. But nothing could prepare them for what was about to happen next.  

One day, while Torren was out to dinner, she experienced severe blurry vision causing her to slip and fall. Concerned she suffered a concussion, her family rushed her to the emergency room. After getting evaluated, on August 31, 2021, doctors diagnosed her with Acute Lymphoblastic Leukemia. 

"It was very shocking considering Torren being very athletic and rarely gets sick. I was not prepared to hear the news," Torren's mother, Ricki Martinez shares. 

Soon after, Torren was referred to University Hospital in San Antonio, Texas three hours from San Angelo to begin getting the best treatment possible. Exactly two weeks later, with the help of their social workers at University Hospital, Torren and her family found a home away from home at the Ronald McDonald House Charities of San Antonio on September 14, 2021. The Martinez family could not believe it; within a month, Torren went from a healthy 20-year-old studying at the University of Texas at San Antonio living in a dorm room, to a cancer patient of University Hospital living at the Ronald McDonald House. 

Within 60 days, Torren's day-to-day routine changed dramatically. Parents sending their kids to college prepare for certain risks, but cancer typically doesn't come to mind. But through it all, from studying for school to daily chemotherapy treatment, Torren shares she is grateful to still be able to experience the comforts of home at the Ronald McDonald House. 

"There's usually volunteers here who cook for us, so that's really nice and generous. My aunt gifted me a Consuela bag and so I can put all my stuff in there. So, I have my laptop which is what I usually bring in case I want to watch shows or movies. I have a blanket, water and sometimes snacks. But usually, I just run down and get something from the pantry." 

Despite the hardships Torren has faced, this entire experience has inspired Torren to help others needing medical treatment, "I was studying Chemistry, but I changed it to Nursing just recently. I'm hoping to be a nurse in 3 years. Hopefully I will return [to school] in Fall 2022." 
What Ronald McDonald House Charities of San Antonio Does for Families
"The Ronald McDonald House has opened doors for me and my family. Not just a place to stay but also giving us comfort and help whenever we needed it. We thank the RMHC for doing everything that they can do for each family here. They are a very loving company with amazing people," Torren says, "We thank RMHC for doing everything they can to provide for families here not just for us. For many other families that are undergoing treatment. We each have our own different things that we are going through, but with the RMH, it makes it that much better." 
When a parent is focused on the health of their child, nothing else should matter, not where they can afford to stay, where they will get their next meal, or where they will lay their head at night. But what if the family lives 60 miles from the best hospitals? What if they live 200 miles, or 1,000 miles away? How does the Martinez family, whose hometown is 200 miles from University Hospital, support their child 24 hours a day, 7 days a week? 
That is where the Ronald McDonald House Charities of San Antonio steps in.  With a referral from a doctor and a background check for adults, families stay at the Ronald McDonald for whenever they need it for as long as they need it. RMHC of San Antonio provides families with a home away from home, meals, transportation to and from appointments. At Ronald McDonald House Charities of San Antonio our goal is to take away every stress so families can keep their sole focus on what matters most – the health of their child.  
How You Can Make a Difference
While our services are free to families, it costs our organization $100 to house one family for one night. Donate today and help cover the cost for families like Torren and Ricki feel at home, even when they can't be.  Every $25 donated covers the cost to transport a family to and from the hospital and every $50 feeds a family of four. 
Every donation makes a difference in keeping families together!
Give Now