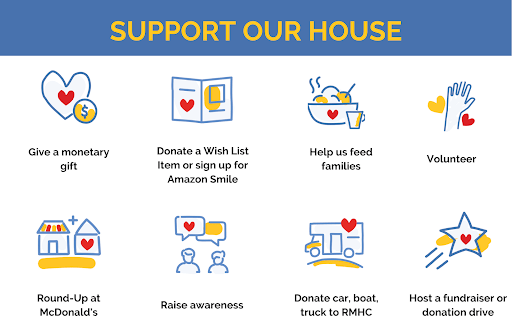 08 Nov

How You Can Help Families During the Holidays

Preparing for the holiday season brings excitement, joy, and let's be honest — a bit of stress as you scramble to find those last-minute gifts and coordinate plans. It also brings an opportunity to give back to those less fortunate, and to share those moments and valuable lessons with your family. 

Whether you're celebrating Thanksgiving, Christmas, Hanukkah, Kwanzaa, Boxing Day, or ringing in the new year, we've got some easy ways you and your family can help Ronald McDonald House families this holiday season.
Ways to Give Back During the Holidays
While often when we think about donating at the holidays, our minds jump to making a donation online or sending in a check to our favorite charity. But there are plenty of ways to give back that don't involve making a monetary gift and can mean even more to families who are struggling. 
Host Your Own Fundraiser.

The holidays are a great time to teach children the power of helping others. Get creative and use your hobbies to raise funds that support our families. Think a holiday cookie sale, knitting scarves and selling them for a $10 donation, or coordinating a caroling event with friends. Don't have time to plan?

Create your own Facebook Fundraiser

and ask folks to give in honor of the holidays. 

Donate Gifts.

At Ronald McDonald House Charities of San Antonio, our mission is to provide a home away from home for families in need of medical treatment in the area. During the holiday season, we ensure every member of the family has a gift to open. Many organizations donate toys for our younger children, but we are always in need of gifts for teenagers, mom and dad. Having presents for the whole family to open on Christmas morning helps provide comfort and familiarity during difficult times. 

Donate Food.

When their child is in the hospital, the last thing families should have to worry about is where they will get their next meal. Help us feed families this holiday season by donating food items we'll use to cook meals for our guests. Accepted

pantry items

include: frozen meat, frozen vegetables, cooking oil, and snack foods

 

Donate a Wish List Item.

Prefer to give a tangible item that you know will be well-used by our guests?

Check out our Amazon Wish List

and use your account to ship our most-needed items directly to our Houses. 

Donate Your Vehicle.

If you're planning to upgrade your car, truck, RV, or even boat this holiday season, consider

donating your old vehicle

using our CarEasy donation program. Donation and pick up is FREE, and proceeds will come back to Ronald McDonald House Charities San Antonio.  

Volunteer.

Sometimes the most valuable gift is time. Make some time to help families this year by

volunteering with us

. We're in need of individuals to cook or sponsor meals and assist with holiday events!

Round Up at McDonald's.

Grabbing breakfast or lunch on the go?

Round up your change

when you swing through McDonald's for an easy way to make your meal go beyond the drive-thru. 

Raise Awareness.

Help spread the word about Ronald McDonald House to ensure we're always available for those who need us. Follow us on

Facebook

,

Instagram

, or

subscribe

to our newsletter. 

Give a Monetary Gift.

Your donation

to Ronald McDonald House Charities of San Antonio helps us give families a safe place to stay during uncertain times, because when your child is critically ill or injured,

the most important place you can be is together. 
>>>
This holiday season, help give more families seeking medical care in the area a home away from home to spend the most important moments with each other. Donate to give the gift of togetherness. 
Give Now